Kaiteki Skin Aesthetic Laser
Kaiteki Skin Aesthetic Laser
LCP credentialed Japanese Skin & Beauty Clinic
Strategically located at the centre of Petaling Jaya and Bukit Jalil, Kaiteki practices 'omotenashi' which translates into detail oriented Japanese hospitality and whole hearted customer service.
We offer not just the space and quality, but also the expertise to help achieve a state of relaxation and well-being.
Our treatments are carefully designed and formulated by professional doctors with cutting edge technology and methods to reduce the signs of years by preventing premature aging.
Discover our wide variety of medical grade treatments to restore a sense of harmony to your skin, body and mind.
Learn more from our Medical Practitioners' health blog at http://blog.kaiteki.my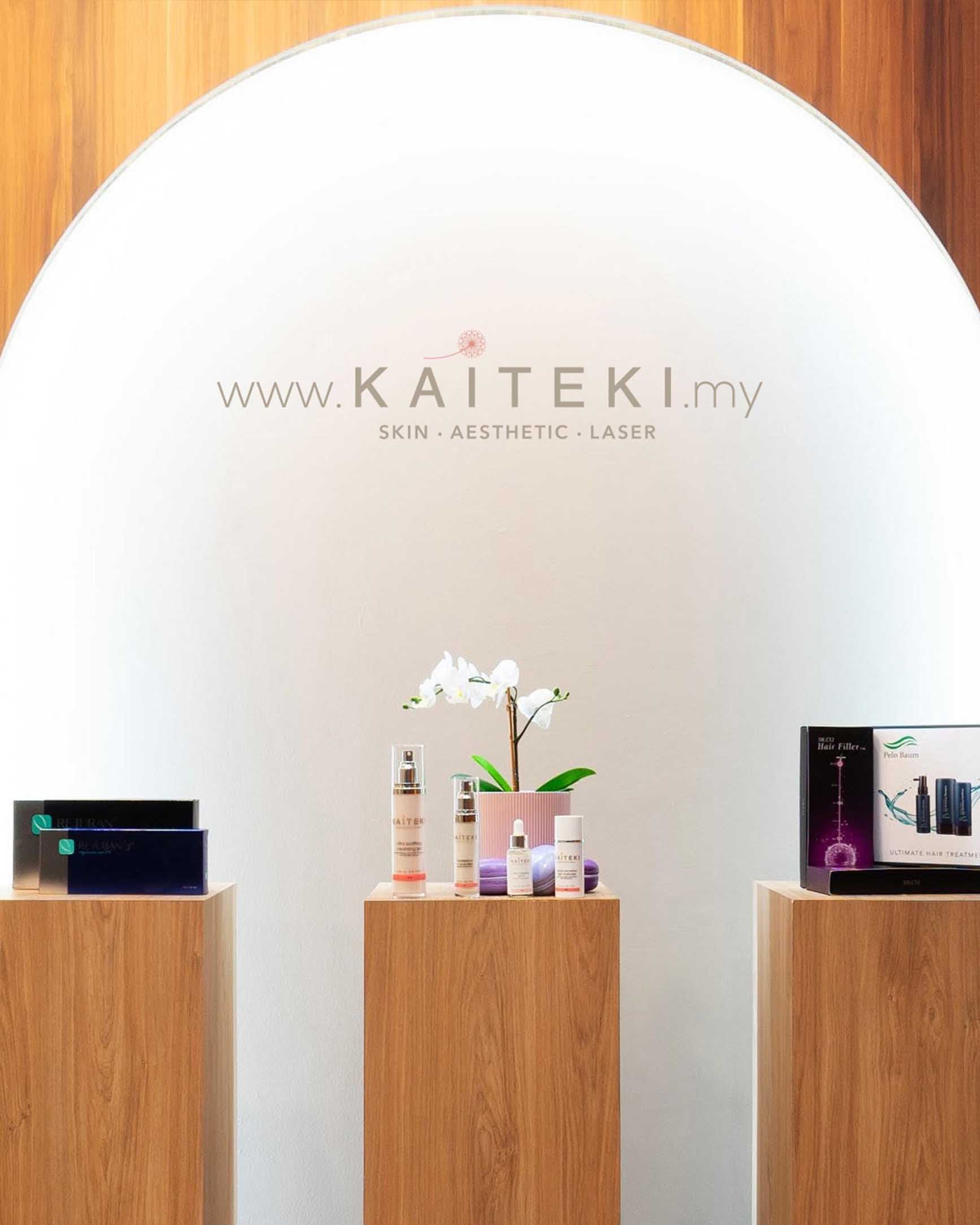 Do you really know your skin type?
There are ways to tackle skin problems without damaging your skin.
Explore with us
Let's face it
Depending on your skin's needs (dry, oily, acne-prone), that can mean a few different things.
Learn More
What's your hair's version
There are a million different ways we can damage our hair, whether it's from a weekly swim or just being out in the sun unprotected.
Know more
Dr Jessie Lim Jia Min
MD, LCP Board Certified, MAC, AAAM
Dr Jessie Lim is a LCP certified aesthetic doctor specialised in injectables and aesthetic lasers. She obtained her medical degree from University Putra Malaysia with honours. She then went on to pursue her post-graduate certification in Aesthetics in Medical Aesthetic Certification Programme and American Academy of Aesthetic Medicine (AAAM).
She is a member of American Academy of Aesthetic Medicine (AAAM) and Malaysia Society of Aesthetic Medicine (MSAM).
Dr Jessie is very passionate about combining science and art in human aesthetics. To her, the most fulfilling and satisfying part of her day is seeing the joyful smiles on her patients' faces that radiates confidence.
She also emphasizes on healthy aging and believes that everyone at every stage of life deserves to be confident thus improving quality in all aspects. Being a committed doctor, she always devotes time in managing patient's concern and expectations in order to produce safe and effective results.
---
Dr. Chew Yuhhui
MBBS (MMMC), Medical Aesthetic Certification
Allow your passion to become your purpose and it will one day become your profession.
To practice with passion is utmost importance for Dr Chew. It was a circumspect decision to embark on this arduous journey of medicine but she pursued relentlessly and graduated from Melaka Manipal Medical College with a degree of Bachelor in Medicine, Bachelor in Surgery ( MBBS).
Her love for discovering new knowledge and keen eye on beauty motivated her to pursue aesthetic medicine where she practices with delectation. Often placing herself in her patient's shoes, she listens with empathy and goes the extra mile to ensure satisfaction from them. She also holds on to the Hippocratic Oath of 'Primum non nocere' (first, do no harm) and emphasizes on safe medicine.
For her, job satisfaction and patient's satisfaction gives her insurmountable joy. She is an accomplished Aesthetic Physician with MBBS, MAC certification and specializes in lasers and injectables. She is bubbly, approachable and you will definitely feel comfortable sharing your stories or your problems with her!
On the days she is not seeing patients , she enjoys blogging and dabbling in video making.
---
Dr. Yeong Bin
MBBS (Monash) (Hons), MAC, MSAM
Dr Yeong Bin earned his Bachelor of Medicine & Surgery (MBBS) from Monash University. He began his career as a doctor and completed his 2 years compulsory service in government hospitals, obtaining and sharpening his skills along the way as a medical officer in various departments.
Since his early days as a doctor, Dr Yeong Bin has always nurtured a keen interest in the field of cosmetology and aesthetic medicine. He is particularly drawn to minimally invasive aesthetic treatments which can significantly enhance the quality of life and allow one to age gracefully. He pursued this interest by participating in various aesthetic courses and workshops including the Malaysian Aesthetic Certification (MAC).
Dr Yeong Bin firmly believes that every individual is unique, hence he constantly seeks to engage with his clients and attain a clear understanding before drafting customised treatment plans for them.
---
Want to know more or get in touch with us!
Just fill up the form below and our consultant will call you soon.
---
Our Customer Testimonials
If you think we deserve a recommendation from you, please do give us a review at
Google Profile.
"... Everyone was very welcoming and very attentive.Every question given will be welcomed with a very detailed answer. Their facial massage is on another level.... "
"First Class Service! Excellent service by Kaiteki team (doctor and therapists). Always very patient and detailed in explaining the steps and process - very knowledgeable.... "
"My experince with Kaiteki has been nothing short of amazing thus far. Getting my skin pampered in ultimate Zen ambience in the midst of a hustle bustle city, coupled with professional consultation... "
"Impressed by the level of attention to detail, luxury and cosy atmosphere! The attentive yet gentle therapist made the whole experience very relaxing and comfortable as well..... "
"很喜欢这边的医生和治疗师, 服务也很棒。不错,蛮推荐! 很舒服!.... "
"... Ive visited many facial centres but this is the only medispa that's so meticulous and thoughtful. The staff are very pleasant, helpful and attentive while the doctor is gentle and courteous... "
Our Happy Clients
Results of our treatments before and after
---
Tales From My Office
by Dr Jessie's Blog.
---

Call us for appointment!
+6010 368 1400
Connect With Us
C-5-G, Jalil Link 2, No 5,
Jalan Jalil Perkasa 1, Bukit Jalil,
57000, Kuala Lumpur.
+6011-33017188
hello@kaiteki.my
Opening hours :
Monday - Friday : 10am to 7pm
Saturday and Sunday : 10am to 6pm
Every Wednesday off
© 2020-2021 Kaiteki Beauty Sdn Bhd. Developed by
GeIT Systems